How to Generate and Convert Leads through Blogging
By Ryan Biddulph
It's a fact that most bloggers don't make two pence to rub together…So, how did I make this Kamikaze transition?
Well; you are gonna have to hang out with me right to the end to find out why…Right now, I wanna share with you how you can  generate and convert your blog leads consistently and get whatever your blog aims are fulfilled…faster!
I shall share with you how Blogging and generating leads through blogging from paradise and converting said leads to buyers changes my life! 
What the heck are Leads?
People intrigued by your business. And attracting and converting these people through blogging is simple.
The difficult part arises if you lack persistence. Here's is what I mean…
Most bloggers have a helluva time generating and converting leads because they do not realize blogging is a skill. Just like any potentially professional endeavor, to go from amateur to pro it takes years of daily practice, learning, study and a full-on commitment to change.
Blogging, is not different. To become adept at drawing targeted traffic and turning readers into customers or clients is a skill set!
[bctt tweet="To become adept at drawing targeted traffic and turning readers into customers is a skill set! #leadgeneration" username="Juleskalpauli"]
Even though the process of drawing in and converting leads is freaken simple, the ways and means through which you inspire readers to become customers and clients requires patient study and practice. And let's face it; most bloggers are anything but patient, wanting to become a full time pro blogger as quickly as a cheetah chasing down a gazelle after 34 espressos. ?
Patience, my blogging grasshoppers.
Good things take time.
After being a full-time blogger for a minute I want to help you generate and convert leads through blogging.
1: Lets Generate
Create Content and Publish Targeted Posts to Your Blog
Most bloggers immediately look offsite and forget the easiest way to get leads is; solve problems through your blog posts.
I publish 2 blog posts and 1 travel-themed page weekly to help folks build their blogs and to inspire people to live their dreams of traveling the world.
What an easy way to get leads, right? Going offsite is important – as we will see below – but taking care of home base is the simplest way to draw in people who dig what you offer.
Stay on topic.
Avoid confusing readers.
Meaning, blog about the 1 talent,  or special you offer, in your wheelhouse. This conditions people to know what to expect from you which is the foundation of any smart lead generation system.
[bctt tweet="With Consistency comes Success and Recognition and Even MORE Leads and Sales. #TopBlog #MLMSuccess #Bloggingsuccess" username="Juleskalpauli"]
With Consistency comes Success and Recognition and Even MORE Leads and Sales. Look who came in the Top 100 Global Network Marketing Blogs! This Exact Blog, Well done Julie Syl and Pauli…Ranked at #23. Not shabby at all hanging out with rock-stars like Ray Higdon, Eric Worre, Matt Morris, Todd Falcone, Tanya Aliza etc. in the TOP 25!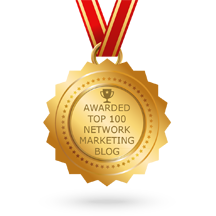 So,  how about you…..
Guest Post on Top Blogs from Your Niche
I generate a substantial amount of leads whenever I guest post on rocking blogs like Julie's blog, Janice Wald's Mostly Blogging, Enstine Muki's blog and Ileane Smith's Basic Blog Tips.
Guest posting is hands down one of the best ways to drive leads through blogging because you can leverage your presence quickly through this online channel.
When I published a guest post on Positively Positive my name and brand became instantly known to an 80,000-strong subscriber list and 2.5 million fans. I saw a flood of traffic and list subscribers after seeing that post go live. 
Write 1000 words daily in a Word document. Just for practice. Trash that document when you are done to find your writing voice, to feel detached about your writing and to have the skills to place guest posts on top blogs from your niche.
[bctt tweet="Write 1000 words daily in a Word document. Just for practice. #Blogging #Leadgeneration" username="Juleskalpauli"]
Comment Effectively on Top Blogs from Your Niche
Write 3-5 paragraph, in-depth, authentic comments on top blogs from your niche to build friendships and to generate leads.
Engaged or downright curious blog readers click my link and visit Blogging From Paradise based on the quality, depth and genuine, personalized nature of my blog comments.
Publish comments mainly to give value, versus getting leads. Sure you want to get leads who visit and read your blog but allow your overriding energy to be that of giving and the getting becomes easier.
[bctt tweet="Publish comments mainly to give value, versus getting leads. #Blogcomments #Blogging #Leadgeneration" username="Juleskalpauli"]
Think more mini guest post, and less blog comment.
Set aside 5-10 comments per comment, focusing exclusively on top blogs from your niche to generate targeted leads.
Build Your Email List
Build your email list.
Make it easy on yourself and your readers.
List-building is akin to the Cyber Holy Grail of blogging lead generation because it's easy to capture and connect with folks through email.
People may check their social media accounts here and there but people WILL live in their email inbox daily.
Collect email addresses through:
A slider form that pops up as readers scroll 50% down your blog (Check ours out at the top of bottom of this post) 🙂
If someone gets your latest blog posts quickly and easily through their email you are likely to convert leads with greater ease.
Serve on Social Media
Notice how I didn't say use social media? Most bloggers see social media like a tool through which they can generate leads. Post a link. Exit stage left. 
Not gonna work.
Serve people on social media. Like Julie Syl Kalungi. Observe how freely she engages people on social media, answering questions, promoting other bloggers, asking questions and serving people freely.
She does not use social media to get, she serves on social media to give. This is the exact attitude to take to inspire people to read your blog, to join your list and to become avid fans of your blogging brand.
I have attracted more than my fair share of rabid Blogging From Paradise minions through social media giving.
OK, now that we are generating steady leads, let's move on to conversions.
2: Time To Convert
The neat thing about conversions? 
A conversion can happen at any time.
The other day one of my Facebook Live video viewers bought 3 of my audio books. A commenter on a recent guest post of mine bought 4 of my eBooks.
Heck; a day ago I received payment from an advertiser whose ad I placed on Blogging From Paradise. In that case, I converted real estate into premium real estate, by receiving advertising revenue for a spot on my blog.
There are a few things to keep in mind when you are trying to increase conversions through blogging.
Be Transparent
Being honest wins in the lead conversion game.
Being authentic, open and genuine in your blogging dealings is a sure way to boost your blogging conversions both short term and long term.
Human beings buy from other human beings they grow to know, like and trust. You can accelerate the know-like-trust process by relaxing, by slowing down, by calming down and by being transparent.
More than a few of my readers – all of whom have bought a handful of my eBooks or audiobooks (cha ching) note how they got to know me better through my transparent, candid Facebook Live or Periscope videos.
Share your wins and losses to be credible. Some folks will boost your conversions after  they learn of your struggles because they can get on board when you seem more human, fallible and believable to them.
[bctt tweet="Being honest wins in the lead conversion game. #Bloggingsuccesstips #Blogging @RyanBiddulph" username="Juleskalpauli"]
Over Deliver to Your Email List
Deliver rich, helpful, thorough:
Blog posts

Videos

Podcasts

Premium products and services
…to your email list over weeks, months and years.
The 1-2 punch of generosity and persistence converts leads like no other combination.
Folks buy my stuff or pay for my various consulting services after enjoying my email list offerings over weeks and months and years.
My emails are hardly fancy; I just do my best to be persistently generous.
[ YOUR COMPLIMENTARY DOWNLOADABLE – 27 WAYS TO PROMOTE YOUR BLOG AND CONTENT.]
Over Deliver through your Blog Posts
Like over delivering to your list, the very act of persistently helping people through your blog posts converts leads.
Be generous. Stay on topic. Over time, more people will buy your eBooks, courses or audio books, or hire you, simply because you helped them through your blog posts.
The power of generous persistence wins again.
Don't Manipulate; Fear Repels
Fear repels.
Power attracts.
Meaning, if you fear loss (loss of money, leads, or….anything), you will do silly things like trying to manipulate human beings into doing something they wish not to do.
Convincing or persuading is fine. But purposely lying to get money from someone is the sure road to either short term or long term failure. The surest way to lose your blogging reputation is to be seen as someone whose word is firm and rock solid as a bowl of Jell-o.
Even during my leanest, The Machinist style struggling, failing years, I kept my word, was honest and I did not lie to folks out of desperation. I maintained my integrity by sharing value, by being of service and by helping folks.
Money flows to me through multiple blogging income streams now because I have predominantly done things from an energy of love and power versus from a place of fear and force over the past 10 years. I help. I may pinpoint the benefits of my premium offerings. Then I get the heck out of the way and allow my generous serving to do the selling, versus trying to scare people into a sale.
Don't Be Shy to Ask for the Buy
Each email I send to my subscribers points people to my:
Blog coaching page

Blogging courses page

eBooks author page

Audio books page
I ain't shy about asking for the buy because being clear on your offering is a simple way to convert leads into buyers.
I end all blog posts with a clear business-related call to action. Learn more about my blogging courses, or coaching services, or eBooks or audiobooks.
Remind people how you can help them, premium-style. Boost conversions through the miraculous simplicity of clarity and persistence.
Peep the background of my YouTube, Facebook and Periscope Live broadcasts. You will always see my paperbacks in the background and you better believe I mention my 126 eBooks for available for purchase on Amazon too.
I ain't ever shy about the buy.
Besides….it's only money, right?
Your Turn
What tips can you add to this list? How are you generating and converting leads through blogging? DID you get value from my experiences? If so, do Pin/Save or Share on Facebook…
About the Author
So, who is this Ryan?
Eight years ago, Ryan was a horribly depressed, broke, security guard.
Today he is an island hopping pro-blogger who's been featured on Forbes, Fox News, Virgin, Entrepreneur etc. 
Ryan Biddulph is a blogger, author and world traveler who's been featured on Richard Branson's Virgin Blog, Forbes, Fox News, Entrepreneur, Positively Positive, Life Hack, John Chow Dot Com and Neil Patel Dot Com. He has written and self-published 126 bite-sized eBooks on Amazon. Ryan can help you build a successful blog at Blogging From Paradise.
PS: If you haven't made any sales or enrolled anyone, or have fewer than 10 people on your team, This Resource will Help (and is on Sale).
[thrive_leads id='6783′]